Our Coaching aids
Flightscope
What is Flightscope?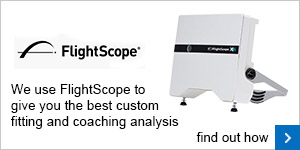 FlightScope introduced the world's first-ever 3D Doppler Tracking Golf Radar, a state-of-the-art, portable indoor-outdoor 3D ball-flight and club tracking device, with capabilities far beyond traditional launch monitor technology.
Our instructors are trained to understand the data and give you clear feedback on how you can improve your game through instruction or equipment.
With such data it is easy to see an increase in distance or tighter dispersions.
"Using Flightscope on our driving range not only allows you to measure your ball flight but allows you to see it for yourself from start to finish, just as you would on the course"
Benefits of Flightscope:
- Helps you understand your ball flight better and the causes of it
- Measure the distances of your clubs (Yardage Gapping)
- Driver Fittings
- Fairway wood fittings
- Hybrid fittings
- Iron Fittings
- Wedge Play
- Ball testing and comparison
Get in touch now by clicking here to book a lesson or fitting with Flightscope and one of our instructors.


GASP - The GASP EBook is the first of its kind

Time is of the essence in the modern day and what better way to be able view your lesson or coaching notes than online from the comfort of your own home or at work.
Working in partnership with GASP systems, we offer every student the opportunity to have their lesson history, swing videos, lesson notes and audio files uploaded online. Each student will get private login details and can access their files from their smartphone, tablet, laptop or computer.
Click here to book a fitting.
Click here to view our ProSwing webiste.