NCGC Academy: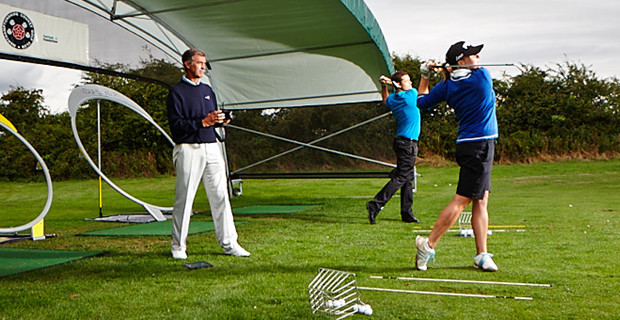 Head Professional, Tim Rouse, has been involved with the Academy project from the ground up. Now with the help of Barclays Spaces for Sport and Sport England he believes we have created the finest teaching facility in Northamptonshire. This provides the perfect resource for players to first start playing golf and learning the skills needed to play on the main Championship Course. Our Professionals will help players understand and develop their own swing as well as some of the skills that go with the game. The program covers all golf skills from putting to course strategy.
Regardless of age or experience the Academy can take your game to an entirely new level. It is based on understanding and improving your own swing and shot making. The Academy is proud to offer one of the best-assembled faculties for instructors of any golf school in the country. Led by Tim himself, all instructors are personally selected and are taught his teaching techniques and methods that have been tried and tested over his considerable years of teaching experience. The aim of the courses is to create a relaxed and fun environment in which golfers can improve and enjoy their game.


NCGC Junior Academy Programme:
We are now taking bookings for the courses. To email us click here if you would like to include a junior on one of the courses, or call in for a registration form.
Juniors will be in groups of five to eight, keeping age groups, family members or friends together. Each junior will be given a workbook so they can follow the course, or practice or play some of the games. The courses will be 8 x 1 hour sessions and there are no tests to pass to qualify for the next level. The subsequent courses will work on self-improvement, understanding the rules and learning new skills. Therec will be supervised playing sessions on the short course, either keeping score or just having fun. Also in the programme are rules, etiquette and the social skills that go with the game.
The cost for the 8 week course is £79.00.

Membership Type Price:
NCGC Colt Course Membership
This includes the par 3 Colt Course, practice facilities, free use of clubs if needed, opportunity of funded coaching and more.
Junior Membership

£36.00

/year
Adult Membership

£122.00

/year

Remember no matter how good your swing may be, if you have the wrong equipment, you will not hit your best shots. The Pro Shop carries a range of junior equipment of different sizes and weights to fit most youngsters.
For any further information please contact the Pro Shop at 01604 842226 or click here to contact us via email.