Click here to visit our ProSwing website.
"Our Professionals will help you understand your game more fully, helping you to apply your own swing to every phase of the game."
Tim Rouse - Head Professional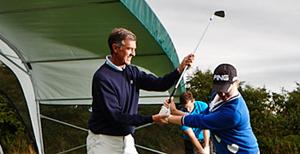 Advanced Fellow of the PGA, PGA level 3 Coach, Senior Swing Instructor and Examiner for the PGA, Tim is a regional coach for England under 18 squad. Renowned as a club and teaching professional with a successful professional playing record, Tim can be found on the range, coaching golfers of all age and abilities. Amongst the many professionals that he works with, 2016 was a notable year for Paul Broadhurst. Paul won the Senior Open Championship, had his first win on the PGA Champions Tour in the USA.
Tim's expertise continues away from the lesson tee with each golfer getting their own GASP ebook, detailing the lessons key points.
Mark Norton - Advanced PGA Professional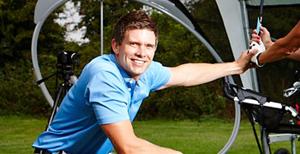 Advanced Member of the PGA, TPI (Titleist Performance Institute) Level 2 Certified Instructor, Qualified UKCC Level 2 Coach, lead coach to Moulton College Golf Academy as well as NGP Academy coach.
Mark is a skilled coach, working with golfers of all ages, abilities in lowering their scores and handicaps. Each player receives their own lesson notes and videos ensuring practice is constructive and memorable.
Adam Myers - PGA Qualified Professional
PGA Qualified in 2016 Adam is a UKCC Level 2 Coach, England Golf Approved Coach, NGU Junior Team Manager and Coach, NGU men's team Coach, Coach to Moulton College Golf Academy.
Adam, was a plus 2 handicap player represented England at Junior and Senior level before turning professional.
Coaching Philosophy
The Northamptonshire County Golf Club is proud to offer one of the best-assembled practice facilities for instruction in the country. Led by Head Pro Tim Rouse his aim is to create a relaxed and fun environment in which seniors and juniors alike can improve their golf. With a comprehensive range of lessons that cater for the total beginner through to the most experienced of players that seek to play to their full potential.
Head Professional, Tim Rouse, comments. "I've been involved with the practice facility improvements from the ground up, and I truly believe that we are creating the finest teaching facility in Northamptonshire. We have an incredibly beautiful and challenging golf course designed by Harry S Colt now complimented by first class practice facilities including the studio, outdoor long and short game practice areas along with 2 putting greens and a Par 3 course."
"Our Professionals will help you understand your game more fully, helping you to apply your own swing to every phase of the game. Our facilities help them cover long and short irons, wedge and sand shots, trouble shots, chipping, putting and more. They'll also help you to focus on course strategy while you enjoy the challenging and memorable championship course. Regardless of your level, age or experience our coaching staff can take you to an entirely new level. Our coaching philosophy is based on the player understanding his, or her, own unique swing. We are able to offer modern training aids to encourage feedback where appropriate."
Tuition Fee Table
|   | Tim Rouse | Mark Norton | Adam Myers |
| --- | --- | --- | --- |
| 30 minute swing check or lesson | £26 | £25 | £23 |
| One hour lesson | £50 | £48 | £45 |
| 30 minute junior lesson | £25 | £15 | £15 |
| Nine hole on the course with teaching | £80 | £70 | £69 |
| Course of 6 x 30 minute lessons | £150 | £140 | £130 |
| Course of 6 x 1 hour lessons | £290 | £270 | £255 |
| Ladies Academy Programme | N/A | Enquire | N/A |
| Junior Academy Programme | N/A | Enquire | Enquire |
We also have short game clinics, group lessons, swing clinics and putting lessons available upon request.

Our Coaching aids include:
- GC2
- FlightScope
- EBook

The GASP EBook was the first of its kind. Time is of the essence in the modern day and what better way to be able view your lesson or coaching notes than online from the comfort of your own home or at work.
Working in partnership with GASP systems, we offer every student the opportunity to have their lesson history, swing videos, lesson notes and audio files uploaded online. Each student will get private login details and can access their files from their smartphone, tablet, laptop or computer.
Click here to visit our ProSwing website.

Get in contact at Procoaching@foremostgolf.com